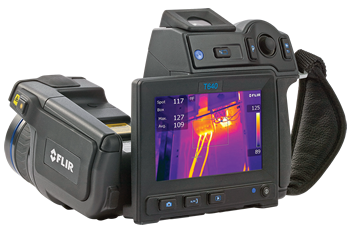 640x480 pixel resolution
The high definition 640x480 pixels detector generates crisp and clear detailed images that are easy to interpret, resulting in reliable inspections with higher accuracy.

High sensitivity
The T640 allows you to see temperature differences as small as 0.04?C.

Tiltable IR unit
The tiltable IR unit gives you great flexibility and allows you to work faster and in a comfortable position during your inspections.

Large bright 4.3 inch LCD screen
The high quality LCD screen presents sharp and bright images also in outdoor environments.

Viewfinder (FLIR T640)
&nbspThe high-resolution viewfinder is ideal for outdoor use or when the LCD screen is not used.

High quality visual camera
An integrated 5 megapixel visual camera generates crisp visual images in all conditions.

Automatic- and manual focus
The FLIR T640/FLIR T620 has a manual focus on the lens as well as a quick one shot autofocus.

Laser Pointer
The position of the laser pointer is highlighted on the IR-image, which helps you associate the hot spot in the image with the physical target.

Flexible interfaces
Easy access to Digital Video Interface, USB for connecting external devices, USB2 for PC communication and a direct connection to charge the battery inside the camera.

MPEG-4 video
Create visual and infrared non radiometric MPEG-4 video files.

FLIR Thermal Fusion
Merges visual and thermal images for better analysis.

Picture-in-picture
Create an infrared overlay on your visual image.Adapts automatically to different lenses with different field of view. Moveable and resizable.

Touch screen
The LCD touch screen brings interactivity and user comfort to a new level. In combination with the large backlit buttons and joystick control the T640/T620 is very easy to use.

Sketch annotations
Include a sketch with the IR image of the inspected object, just draw it on the touch screen.

Text and voice annotations
Text comments can be selected form a list. A Bluetooth headset can be connected to make voice annotations.

Digital zoom
The FLIR T640 is equipped with a 1-8x continuous digital zoom and the T620 with a 1-4x zoom.