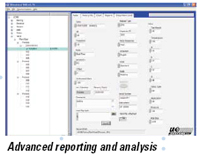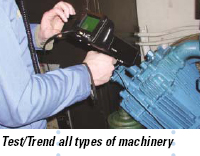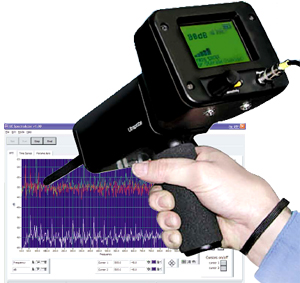 ULTRAPROBE® 10000
---
How Ultrasonic Technology Works for You
The Ultraprobe? 10,000 is the world's most advanced ultrasonic inspection system!
The Ultraprobe? 10,000 is the world's most advanced ultrasonic inspection system! This innovative instrument is jam-packed with so many features it will make your inspections efficient and easy! From the very instant you hold the Ultraprobe 10,000 in your
hand, you'll be convinced that this is a truly remarkable feat of engineering. Feel the well-balanced pistol grip, the elegance of simplicity and the clarity of signal. The "10,000" is ready to unleash the potential of any inspection program for you.
The Ultraprobe 10,000 enables you to:
• Record and Analyze Sound Samples
• Perform Condition Analysis
• Store Test Data
• Trend Results
• Review Inspection Results
• Manage your Test Data…

ALL WITH JUST ONE INSTRUMENT! And that's just the tip of the iceberg The Ultraprobe 10,000 features onboard
Sound Recording with a push of a button. You'll record a sound sample directly into the instrument and link it to one
of 400 record files stored in the Ultraprobe!

The Ultraprobe 10,000 simplifies sound recording with user-friendly Spin and ClickTM technology using
just two controls. Test the way you want with:

• Specialized Application Screens
• Adjustable On/Off Features
• Connection to External Devices
• Flexible Reporting OptionsData Based Leak Detection/Energy Audits

Consider the possibilities with the ULTRAPROBE?10,000:

Once you've used this instrument, you'll want no other! The Ultraprobe 10,000 assists Reporting, Analyzing and Record keeping. For example, you can:

• Trend a group of bearings over time
• Trend one bearing over time
• Analyze steam trap history and costs
• Analyze leak costs
• Note patterns in electrical failure
• Record valve sounds
• Analyze mechanical sounds...

ULTRAPROBE 10000 Specifications

Construction:

Hand-held pistol type made with coated aluminum and ABS plastic

Circuitry:

Solid State Analog and SMD Digital Circuitry with temperature compensation

Frequency Range:

20 KHz to 100 KHz (tunable in 1 KHz increments)

Response Time:

< 10 ms

Display:

64 X 128 LCD with LED Backlight

Memory:

400 storage locations

Battery:

NIMH Rechargeable

Operating Temperature:

32°F to 122°F (0?C to 50°C)

Output(s)

Calibrated heterodyned output, decibel (dB), frequency, RS-232 data output

Probes:

Trisonic Scanning Module and Stethoscope Module

Headset:

Deluxe noise attenuating headphones

Indicators:

dB, Frequency, Battery Status, and 16 Segment Bar Graph

Sensitivity:

Detects .005" (.127 mm) diameter leak @ 5 psi (.34 bar)
at a distance of 50 ft. (15.24 m)

Threshold:

1 x 10-2 std. cc/sec to 1 x 10-3 std. cc/sec.

Dimensions:

Complete kit in Zero Halliburton aluminum carrying case
21.5" X 18.5" X 8" (55 X 47 X 20 cm)

Weight:

Pistol Unit: 2.35 lbs. (1.1 kg)
Complete carrying case: 19 lbs. (8.6 kg)

Warranty:

1-year parts/labor standard,
5 years with completed warranty registration card.

Display Modes:

Real Time, Snap Shot, Peak Hold, Storage Display,
and Application Specific