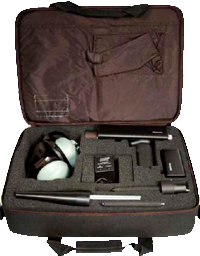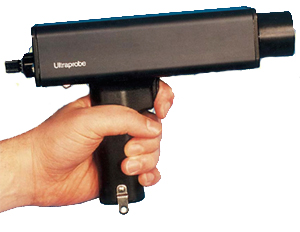 ULTRAPROBE® 550
---
How Ultrasonic Technology Works for You


The Ultraprobe 550 senses a narrow range of ultrasonic "high frequency" signals and electronically translates them into the audible range that users can hear and easily recognize. Ultrasound is a short wave signal which provides many benefits.
Being directional, the sound intensity does not travel far from the source making detection of problem sounds very fast and very accurate. Since the instrument senses only high frequency sounds, it ignores most troublesome background noises.
Designed for ease of use, it often takes no more than 15 minutes to become competent in testing with the ULTRAPROBE 550. The ULTRAPROBE 550 heterodynes ultrasound to the audible range providing accurate sound reproduction.

Ultraprobe's versatility makes it ideally suited to work with any plant program:
Predictive Maintenance (PDM)
Energy Conservation
Safety
Quality Assurance (QA/QC)
Total Productive Maintenance (TPM)
Process Safety Management (PSM)

Ultraprobe provides data acquisition through three modes:
Auditory Channels (via an acoustically isolating headset)
Analog Meter
Demodulated Signal for vibration data collectors and FFT's
UP550KT Kit
ULTRAPROBE housing with Metered Pistol Grip, Ballistic Meter, Ten Turn Potentiometer, Numerically Calibrated Sensitivity Dial with Selection Lock, Battery, Battery Indicator Light, Battery Recharger Receptacle and Head Set
Receptacle.
Trisonic? Scanning Module
Rubber Focusing Probe
Stethoscope (contact) Probe
Deluxe Headphones
Extension Probe Kit
Warble Tone Generator
Battery Recharger (110V or 220V)
Nylon Cordura Soft Carrying Case Other Kits & Models Available, Consult With Factory.

SUPPORTED BY ACCESSORIES (Call, Fax or Email for information)
Holster Set
Magnetic Mount Probe
Liquid Leak Amplifier
Ultrasonic Wave Form Concentrator (Dish)
Wide Selection of Ultrasonic Tone Generators
Hard Hat Headphones
Extension Cable
Video Training Tapes
Ultraprobe Versatility Extends to Ordering with Customized Kits Available on Request
UE Systems ULTRAPROBE 550 Series Application Selection Chart

Application Kit #

UP550KT

UP550SC
UP550STG
UP550C
UP550S
Pressure & Vacuum Leak Detection

Y

Y

Y

Y

Hydraulic Valve Bypass

Y

Y

-

Y

-

Exhaust System Leaks

Y

Y

Y

-

Y

Heat Exchangers, Boilers, Condensers

Y

Y

Y

-

Y

Valve & Steam Trap Inspection

Y

Y

-

Y

-

Bearing Testing

Y

Y

-

Y

-

Gear/Gear Box Inspection

Y

Y

-

Y

-

Cockpit Window Leaks / Hatches

Y

-

Y

-

General Mechanical Inspection

Y

Y

-

Y

-

Tanks, Pipes, Leak Testing, etc.

Y

Y

Y

-

Y

Electrical Inspection

Y

Y

Y

-

Y
ULTRAPROBE 550 Specifications

Construction:
Metered pistol housing; anodized aluminum and ABS plastic
Circuitry:
Solid state heterodyne receiver with temperature compensation
Frequency Response:
Peak response: 36-44 kHz (optimized for airborne leaks)
Probes:
Scanning Module: patented TRISONIC plug-in type consisting of phased array of multiple transducers for airborne ultrasound. RF shielded.
Headset:
Noise isolating type: double headset wired monophonic. Impedance, 16 ohms. Over 23 dB of noise attenuation. Meets or exceeds ANSI specifications & OSHA standards.
Indicators:
Ballistic output meter. Low Level Battery LED for main housing internal battery supply.
Battery:
Self contained nickel metal hydride (environmentally safe) rechargeable.
Pistol Unit Weight:
2 lbs. (.9kg)
Carrying Case:
ABS plastic
Sensitivity:
Detects .005" (.127mm) dia. leak @ 5 psi (.34 bar) at a distance of 50 ft. (15.24m).
Threshold*:
1 x 10-2 std. cc/sec to 1 x 10-3 std. cc/sec. freon