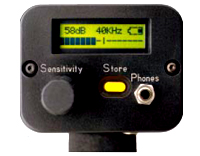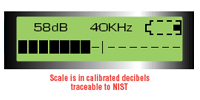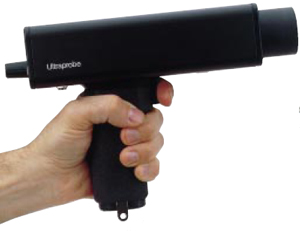 ULTRAPROBE® 9000
---
How Ultrasonic Technology Works for You

Digital Ultrasonic Inspection System...
The Ultimate Inspection Tool:
All the advantages of Digital with the feel of Analog

The Ultraprobe 9000 is a Digital Ultrasonic Inspection, Information Storage and Retrieval System that is so versatile, so easy (most operators are able to use the Ultraprobe 9000 within 15 minutes) and so much fun to operate, you'll be looking for opportunities to use it every day. From the very instant you hold the Ultraprobe 9000 Digital Ultrasonic Inspection System in your hand, the feel of the well balanced pistol grip, the elegance of simplicity and the clarity of signal will convince you that this is truly a remarkable feat of engineering. This Ultraprobe is ready to unleash the potential of any inspection program.

Your first glance at the easy to read display panel shows you something special. You can see the calibrated decibel readout and a
16 segment bar graph which instantly registers sound intensity changes and simultaneously registers peak hold as
you scan.

With the Ultraprobe 9000, UE Systems engineering combines the
best of both worlds: you can scan quickly as with the analog instruments and use digital information to store and trend.

Plus UE Systems' Spin and Click Technology makes all your adjustments fast and simple.

UE Systems' unique Spin and Click? Technology makes sophisticated inspection processes so simple, so quick, you'll be amazed at how much you can accomplish with only two controls. By just "spinning" and "clicking" you can:
Locate and identify potential problems
Store data
Change frequency quickly
Change sensitivity quickly
Download data via RS232 output
Adjust basic operation modes
Select "snap shot" function … and more!

ULTRAPROBE? 9000 Features:
Open Platform Software
Interchangeable Modules
Frequency Tuning
Spin and Click? Technology
Ultratrend? Sound Filtration
120 dB Dynamic Range
Superior Application Support
Acoustic Isolating
Headphones
Environmentally Friendly Rechargeable Batteries
Easy Interface for most Vibration Analyzers including: SKF, ENTEK, DLI, CSI, DI
Developed by The IndustryLeader in Airborne Ultrasound

Typical ULTRAPROBE Applications


Data Based Mechanical Inspection/Trending
Bearing Condition
Rubbing Conditions
Cavitation
Gears/Gear Boxes
Pumps/Motors
Lack of Lubrication
Data Based Leak Detection/Energy Audits
Compressed Air
Compressed Gases (O2, NO, etc.)
Vacuum Leaks
Seals & Gaskets
Condenser Tubes
Cockpit Windows
Hatches
Boilers
Heat Exchangers
Valves
Steam Traps
Data Based Electrical Inspection
Arcing
Tracking
Corona
Switchgear
Transformers
Insulators
Relays
Bus Bars

ULTRAPROBE 9000 Specifications

Construction:

Hand-held pistol type made with coated aluminum and ABS plastic

Circuitry:

Solid State Analog and SMD Digital Circuitry with temperature compensation

Frequency Range:

20 KHz to 100 KHz (tunable in 1 KHz increments)

Response Time:

< 10 ms

Display:

16 X 2 LCD with LED Backlight

Memory:

400 storage locations

Battery:

NIMH Rechargeable

Operating Temperature:

32°F to 122°F (0?C to 50°C)

Output(s)

Calibrated heterodyned output, decibel (dB), frequency, RS-232 data output

Probes:

Trisonic Scanning Module and Stethoscope Module

Headset:

Deluxe noise attenuating headphones

Indicators:

dB, Frequency, Battery Status, and 16 Segment Bar Graph

Sensitivity:

Detects .005" (.127 mm) diameter leak @ 5psi (.34 bar) at a distance of 50 ft. (15.24 m)

Threshold:

1 x 10-2 std. cc/sec to 1 x 10-3 std. cc/sec.

Dimensions:

Complete kit in zero haliburton aluminum carrying case 15" X 22" X 7"
(38.1 X 55.9 X 17.8 cm)

Weight:

Pistol Unit: 2 lbs. (.9 kg)
Complete carrying case: 14 lbs. (6.4 kg)

Warranty:

1 year parts/labor standard, 5 years with returned completed warranty registration.

Display Modes:

Real Time and Snap Shot