The D-Series outdoor dome enclosure provides precision pan/tilt control while providing fully programmable scan patterns, radar slew-to-cue, and slew-to-alarm functionality. Fully enabled for control and operation over IP and serial networks, D-Series systems deploy a 320 x 240 thermal imager along with a day/night 36x zoom color CCD camera. FLIR's D-Series thermal multi-sensor security dome cameras are the perfect replacement for day/night dome cameras, providing clear 24/7 imaging capability in an attractive, discrete dome-style enclosure.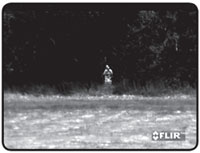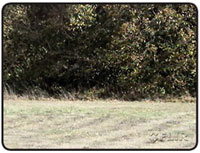 Thermal cameras can complement CCD cameras during the day in situations where contrast is low.

Crisp thermal images
All versions of the outdoor domes are equipped with an uncooled Vanadium Oxide microbolometer detector that produces crisp images of 320 x 240 pixels.

Precise Pan/Tilt mechanism
All D-Series thermal imaging cameras come with a precision pan/tilt mechanism. It allows the user to rotate the camera 360° continuously and to tilt it +45° to -180° This drastically increases situational awareness. The Pan/Tilt has 128 preset positions. Ideal if you want to scan an area continuously.

Daylight camera
All versions are equipped with a long range daylight/low light camera. The daylight camera offers an 36x optical zoom.

Digital Detail Enhancement
The D-Series provide high contrast imagery optimized to get the most out of video analytics software. Digital Detail Enhancement ensures clear, properly contrasted thermal images in all weather conditions.

Excellent range performance
Equipped with a 35 mm lens, the D-313 is designed for mid-range security and surveillance applications. The D-313 has a 13° field of view. With the D-313 you will be able to detect a man-sized target at a distance of over 780 meters.

Easy to use
Equipped with an "athermal lens", all D-Series are able to maintain focus no matter what the environmental temperature is. There is no need for user adjustments.

Designed for use in harsh environments
The D-Series are extremely rugged systems. Their vital core is well protected, IP66 requirements, against dust and water ingress.

IP control
The D-Series can be integrated in any existing TCP/IP network and controlled over a PC. No additional cables are required. Using this configuration, you can monitor all activity over the network, even when you are thousands of kilometers away.

Serial control interface
Simply connect the D-Series over RS-232, RS-422 or RS-485 to a remote control panel. Pelco D or Bosch commands are used for common functions. A video cable can be connected to any existing multi-function display that accepts

composite video. Video Streaming
Multiple channels of streaming digital video are available in H.264, MPEG-4, or M-JPEG formats. Simultaneous digital and composite video output is possible.

FLIR Sensors Manager
Each D-Series camera comes with a single sensor copy of FLIR Sensors Manager. This intuitive software allows users to manage and control a D-Series camera in a TCP/IP network.
Imaging performance
Thermal: 
Detector type
Focal Plane Array (FPA), uncooled microbolometer
Number of pixels
320 x 240
Spectral range
7.5 to 13µm
Name/Focal length/ Field of view
D-348: 9 mm lens - FOV: 48°(H) x 39°(V)
D-334: 13 mm lens - FOV: 34°(H) x 28°(V)
D-324: 19 mm lens - FOV: 24°(H) x 19°(V)
D-313: 35 mm lens - FOV: 13°(H) x 10°(V)
Thermal sensitivity
85 mK at 25°C
Image frequency
25 Hz or 8.3 Hz
Focus
Focus free, athermal lens
Electronic zoom
2x
Image processing
Automatic Gain Control (AGC), Digital Detail Enhancement (DDE)
Visual: 
Built-in digital video
1/4" Exview HAD CCD
Effective pixels
380.000
Standard lens performance
FOV: 57.8° (H) to 1.7° (H) f=3.4mm (wide) to 122.4 mm (tele), F1.6 to F4.5
Optical zoom
36x
Electronic zoom
12x
 
 
PAN- TILT
Az Range; Az velocity
360° continuous, 0.5 to 60°/sec max.
El Range; El velocity
+45°, to -185°/sec, 0.5 to 60°/sec max.
Programmable presets
128
 
 
System features
Automatic heater
Clears ice from windows
 
 
Image presentation
Video output
PAL thermal and visible - NTSC thermal and visible
Video over Ethernet
Two independent channels for each camera (4 total) of streaming MPEG-4, H.264, or M-JPEG
 
 
Power
Requirements
24 VAC (20-30 VAC) 24 VDC (21-30 VDC)
Consumption
24 VAC:40 VA nominal65 VA max w/heater
24 VDC:30 W nominal50 W max w/heater
Environmental specification
Operating temperature range
-25°C to +55°C
Storage temperature range
-50°C to +85°C
Encapsulation
IP66
Vibration
Mil-Std-810F
 
 
Physical characteristics
Camera Weight
10.5 kg
Camera Size (L x W x H)
471 mm x 199 mm x 556 mm
Shipping weight (camera + packaging)
16.4 kg
Shipping size (camera + packaging) (L x W x H)
762 mm x 585 mm x 330 mm
Interfaces
TCP/IP
Yes
RS-485
Yes
RS-422
Yes
RS-232
Yes
Pelco D
Yes
Bosch
Yes
 
 
* 30 Hz NTSC or 25 Hz PAL available. Subject to approval of the US Department of Commerce for use outside the USA.