For Complete Electrical Signature Analysis (ESA)
The Most Complete Motor Electrical Signature and Power Quality Analysis Instrument on the Market!
For AC/DC and with Superior Analytical Powers!
• SAFE: CAT IV RATING FOR 600 V
• RUGGED: TOUGH CASE WITH RUBBERIZED BOTTOM
• EASY TO CARRY - EASY TO USE: LIGHTWEIGHT, HANDHELD - USER FRIENDLY
• UNLIMITED MEMORY: REPLACEABLE MEMORY CARD AVAILABLE
• WARRANTY: TWO YEARS LIMITED
• CE CERTIFIED
• WIRELESS BLUETOOTH: NO CABLE FROM ATPOL II TO PC
• ECONOMICAL AND QUICK RETURN ON INVESTMENT: LOWEST COST ON THE MARKET TODAY
• SERVICE BACK-UP AND FREE EMAIL AND PHONE SUPPORT
• PROFESSIONAL TRAINING AVAILABLE IN GROUPS OR IN YOUR OWN PLANT - WORLD WIDE

COMPLETE MOTOR ELECTRICAL SIGNATURE ANALYSIS AND POWER QUALITY MANAGEMENT FOR AC AND DC MOTORS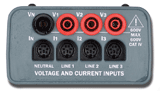 EASY TO CARRY - EASY TO USE
The ATPOL II (ALL-TEST PRO ON-LINE II?) tester is the most complete
On-Line Motor and Power Diagnostic instrument available today – all in a hand
held, lightweight instrument. Rugged case with rubberized bottom for a safe grip.
No need to carry a PC or other heavy equipment in the field, the ATPOL II fits in
a small pouch, which can be slung over the shoulder or carried in a tool-belt.
No need to enter nameplate data before data collection, only prior to analysis!
Should you make a mistake when entering data – no problem. Just correct the data


before analysis.
CAT IV – THE ATPOL II HAS THE INDUSTRY'S HIGHEST SAFETY STANDARDS
The ATPOL II has passed the highest standards for 600V and is suitable for testing at the
service entrance.
SUPERIOR DIAGNOSTIC POWERS – SMART & AUTOMATIC
The ATPOL II offers many Software and Data Analysis Advantages with more
data available for more choices of evaluation. Many key determinations are done automatically,
such as:
• Line Frequency, Running Speed and Pole Pass Frequency
• Software automatically looks for patterns related to Stator Slot and Rotor
Bar fault frequencies
• Bearing numbers can be registered, enabling software to automatically
determine if a bearing problem exists
• Automatic determination of static and dynamic eccentricity
The ATPOL II delivers superior AC diagnostic capabilities with Rotor Health, Air Gap or
Eccentricity and Stator Health together with all mechanical issues, such as bearings, loose
belts, gearboxes, etc. The instrument also provides excellent Diagnostic DC testing for Motors,
Generators and Alternators.
PATENT PENDING TECHNOLOGY FOR ALWAYS MAKING CORRECT CONNECTIONS
A new method for making sure that all leads have been applied correctly is being patented for
the ATPOL II. No more misses or strange results due to faulty application of the leads!
UNLIMITED MEMORY
With the optional memory card feature activated you have virtually unlimited storage for your
test-data! The instrument comes standard with internal memory for 20 tests.
NO PC COMMUNICATION CABLE NECESSARY
The ATPOL II is equipped with Bluetooth* wireless transmission from instrument to PC.
No need to keep track of additional cables.

ALL-TEST PRO OL II hand held collector (1)
1-100 Amp Test Clamps with leads (4)
100-1000 Amp Test Clamps with leads (4)
Voltage Test Leads with Clamps (2)
Battery Charger 115V or 230V (1)
Solid Hard Carrying Case (1)
Software ATPOL MCS (Motor Circuit Signature) On CD
Software ATPOL PQC (Power Quality Control) On CD
USER MANUAL On CD
Warranty Card (1)

SPECIFICATIONS
ATPOL II weight: Less than 1 ? lbs (560 gram)
ATPOL II size: 3 ?" wide x 7 ?" long x 2" deep
(95 mm W x 190 mm L x 50 mm D)
Gross weight for shipping: 22 lbs
Gross size for shipping: 22" x 18" x 16"