THE PERFECT TOOL FOR TROUBLE SHOOTING, START-UP & QUALITY CONTROL OF AC/DC ELECTRIC MOTORS, GENERATORS OR TRANSFORMERS
Trouble Shooting – Know in a few minutes what the problem is: electrical or mechanical, coil or rotor, internal fault or ground fault.
Start-up – Make sure all electrical motors are working in top condition.
Quality Assurance – Test all incoming motors.
Light PdM – Also suited for limited, manual, Predictive Maintenance.
REVOLUTIONARY TESTER GOES FAR BEYOND WHAT YOU CAN SEE WITH ONLY A MEG-OHM-METER!
– Safe: De-energized testing
– Easy: As easy to use as any meg-ohm-meter
– Light: One lb., handheld
– Batteries last for up to 10 hours of testing
– Best Value: Doesn't cost more than a good meg-ohm-meter. Quick return on investment

WHAT YOU WILL FIND WITH THE AT PRO? 31:
• Turn to turn & coil to coil faults
• Contaminated windings; grease, dirt & liquids
• Phase Unbalance; Z-unbalance = higher electrical bill & shorter motor life
• Open windings; no conductivity
• Rotor faults; broken bars, air-gaps, casting voids, etc*
• Insulation to ground faults; Choose 500 or 1000 volt test, read 0 -500 MΩ
• EMI numbers in mV shows whether readings are reliable, or not
*A fast, easy and effective way to find broken rotor bars, eccentric rotors and casting voids

STOP GUESSING – GET YOUR OWN ALL-TEST PRO?!
TEST ALL INCOMING MOTORS BEFORE INSTALLING
Save tons of money by catching any faults before installing a new or repaired motor.
TROUBLE SHOOT
Know what the trouble is in a few minutes; Electric or mechanical? Turn-to-turn fault? Rotor problem? Phase unbalance?
Dirty windings? Short to ground?
Stop Guessing! Know the problem before sending motor out for repair.
TEST ELECTRIC MOTORS & CONNECTIONS AT START-UP
Avoid unnecessary start-up labor and material costs. Use test results to create a professional bill of health report
and avoid future warranty claims.
LIGHT PREDICTIVE MAINTENANCE
By performing quick tests periodically on your most critical motors, and by using our Condition Calculator? Software,
which is programmed manually, you can see any changes early and take action before a critical breakdown.
Ask for our ALL-TEST PRO system for a complete PdM program.
REPAIR SHOPS
SORT YOUR INCOMING REPAIRS
No need to clean and bake before determining the fault(s). Save hours of work per day and see your costs go down and profits go up!
GIVE YOUR CUSTOMERS TOP QUALITY SERVICE
Take the ALL-TEST PRO 31 with you when picking up repairs or making a sales call. Help your customer (and yourself) by trouble
shooting or by settling a warranty claim on site.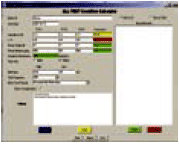 ALL-TEST PRO 31
Test Harness with Clips
Battery Charger
Carrying Pouch for belt and shoulder
User Manual on CDs

Specifications:
Size: 7.5" L, 4" W, 1" D
Weight: 1.0 lb.
Batteries: 6 pack, 7.2V – 1000mAh. Rechargeable NiCd
Engineering units for Impedance and Phase Angle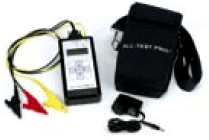 Available accessories:
Software: Condition Calculator?
ATF1100 DC ClampCE listed
GSA Schedule Supplier